Target identification and drug discovery in acute myeloid leukemia
TEAM LEADER
Lina BENAJIBA,

MD, PhD
CCA-INSERM-Bettencourt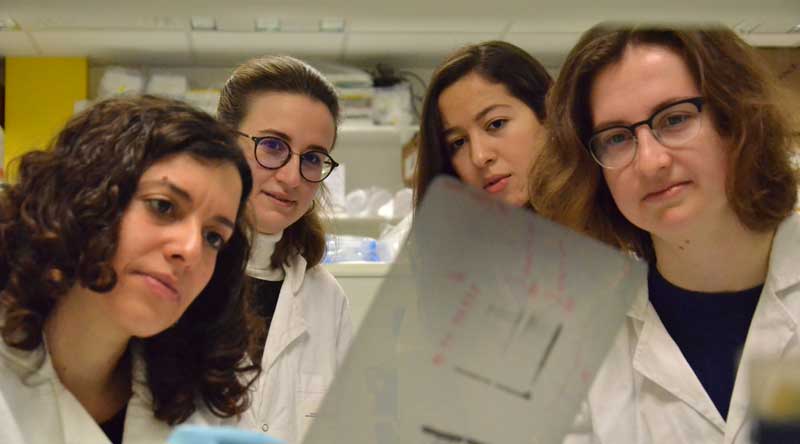 Accelerating therapeutic innovation in AML
Despite the significant progress made in understanding Acute Myeloid Leukemia (AML) pathogenesis over the last decades, our clinical progress in treating this disease has lagged behind. Developing new translational research strategies focused on the identification of druggable oncogenic targets is critical to pave the road for successful AML treatment.
Our team focuses on early drug development and innovative approaches towards new target and drug discovery in AML. Our research projects stem at the interface between biology, chemistry and clinical research in order to develop innovative methods, aiming to identify new therapeutic opportunities for patients with AML.
To efficiently translate our results to the clinic and accelerate novel drug candidate's identification, our team works in close interaction with Saint-Louis hospital hematology clinic and phase I trials department. We also seek to develop academic and industry interactions to accelerate the drug discovery journey in AML. Our discoveries may therefore contribute to novel and more efficacious treatments for this highly aggressive and lethal disease.
Developing physiologically relevant AML models
Relying on meaningful disease models is an essential prerequisite to identify therapeutic alternatives for patients with relapsed/refractory hematological malignancies such as AML.
Driven in large part by therapeutic considerations, our team develops humanized AML mouse models, closely mimicking the physio-pathological conditions of leukemic growth within the bone marrow microenvironment. The engineering and optimization of such innovative and powerful mice models harboring ectopic patient derived leukemia within humanized bone marrow niches will allow large scale therapeutic target discovery.
Studying the niche protective role in AML
Leukemia development and chemoresistance are complex processes that are only partially explained by the intrinsic accumulation of genetic alterations in hematopoietic progenitor cells. Recent findings have demonstrated the key role of the bone marrow niche in sustaining AML and regulating drug resistance.
The goal of our work is to define and validate novel niche-leukemic crosstalk induced dependencies, through innovative and powerful high-throughput large scale screening tools applied to physiologically relevant custom made in vitro and in vivo models.
We also develop a pipeline to validate the identified therapeutic targets and conduct the necessary preclinical steps towards translating our findings to the clinic, including identification of novel biomarkers of response to treatments and synergy studies.
In parallel, we are highly interested in shedding light on the mechanistic underpinnings of the bone marrow-leukemia crosstalk using transcriptomic-, epigenomic- and in vivo microscopy-based approaches.
Deciphering the pathways involved in communications between leukemia and stroma provides a framework for defining and understanding AML microenvironment-related specific dependencies, and a path towards the discovery and preclinical validation of promising therapeutic targets in AML. Concomitant "seed" and "soil" targeting may thus eradicate AML leukemic stem cells and improve patient's survival.
►

 Lin KH, Rutter JC, Xie A, Winn A, Pardieu B, Dal Bello R, Forget A, Itzykson R, Yeong-Ran A, Ziwei D, Sobhan RT, Anderson GR, Singleton KR, Decker AE, Winter PS, Locasale J, Crawford L, Puissant A*, Wood KC*. Using antagonistic pleiotropy to design a chemotherapy-induced evolutionary trap. Nature Genetics. In press. *Co-last authors.


►

 Itzykson R, Duployez N, Fasan A, Decool G, Marceau-Renaut A, Meggendorfer M, Jourdan E, Petit A, Lapillonne H, Micol JB, Cornillet-Lefebvre P, Ifrah N, Leverger G, Dombret H, Boissel N, Haferlach T, Preudhomme C. Clonal interference of signaling mutations worsens prognosis in core-binding factor acute myeloid leukemia. Blood. 2018 Jul 12;132(2):187-196.


►

 Fenouille N, Bassil CF, Ben-Sahra I, Alexe G, Benajiba L, Ramos A, Pikman Y, Burgess MR, Qing L, Luciano F, Auberger P, Galinsky I, DeAngelo DJ, Stone RM, Zhang Y, Perkins AS, Shannon K, Hemann MT, Stegmaier K*, Puissant A*. Targeting creatine kinase pathway in EVI1-positive Leukemia. Nature Medicine. 2017 Mar;23(3):301-313. *Co-last authors.


►

 Puissant A, Fenouille N, Alexe G, Pikman Y, Bassil CF, Mehta S, Du J, Kazi JU, Luciano F, Rönnstrand L, Kung AL, Aster JC, Galinsky I, Stone RM, DeAngelo DJ, Hemann MT, Stegmaier K. SYK is a critical regulator of FLT3 in acute myeloid leukemia. Cancer Cell. 2014 Feb 10;25(2):226-42.


►

 Puissant A*, Frumm SM*, Alexe G, Bassil CF, Qi J, Chanthery YH, Nekritz EA, Zeid R, Gustafson WC, Greninger P, Garnett MJ, McDermott U, Benes CH, Kung AL, Weiss WA, Bradner JE, Stegmaier K. Targeting MYCN in neuroblastoma by BET bromodomain inhibition. Cancer Discov. 2013 Mar;3(3):308-23. *Co-first authors.


►

 Itzykson R, Kosmider O, Renneville A, Gelsi-Boyer V, Meggendorfer M, Morabito M, Berthon C, Adès L, Fenaux P, Beyne-Rauzy O, Vey N, Braun T, Haferlach T, Dreyfus F, Cross NC, Preudhomme C, Bernard OA, Fontenay M, Vainchenker W, Schnittger S, Birnbaum D, Droin N, Solary E. Prognostic score including gene mutations in chronic myelomonocytic leukemia. J Clin Oncol. 2013 Jul 1;31(19):2428-36.


►

 Miller PG, Al-Shahrour F, Hartwell KA, Chu LP, Järås M, Puram RV, Puissant A, Callahan KP, Ashton J, McConkey ME, Poveromo LP, Cowley GS, Kharas MG, Labelle M, Shterental S, Fujisaki J, Silberstein L, Alexe G, Al-Hajj MA, Shelton CA, Armstrong SA, Root DE, Scadden DT, Hynes RO, Mukherjee S, Stegmaier K, Jordan CT, Ebert BL. In Vivo RNAi screening identifies a leukemia-specific dependence on integrin beta 3 signaling. Cancer Cell. 2013 Jul 8;24(1):45-58.